Drink Driving Solicitors
Drink Driving Solicitors Advice
Drink driving? This may be the first time you have been faced with any kind of prosecution and we understand how you probably feel right now. Please get in touch with a team of expert drink driving solicitors for a free consultation.
It is vital that you seek advice from expert solicitors with particular expertise in drink driving cases involving blood and urine samples or any of the three breathalysers in use across the country's police stations. Check the printout the police should have offered to you for details of which drink driving device you were breathalysed on.
I HAVE BEEN CAUGHT DRINK DRIVING, DO I NEED A SOLICITOR?
The decision is yours. Ideally you should make arrangements and seek advice from a solicitor at the police station when you are detained and before you make any formal statement. There is always a duty solicitor available on call 24 hours a day who provides free legal advice to people detained at the police station. The police will ask you if you want to see a solicitor.
You have a few options:
You can ask to see a duty solicitor. These are on call 24 hours a day and provide free legal advice to anyone that needs it. Seeing a duty solicitor at the police station is free of charge no matter how much you may earn or have in savings.
You can ask to see your own lawyer or one you have heard of.
You can ask the police for their local list of specialist motoring lawyers if you do not have your own or you don't know of any locally.
You can choose not to see a solicitor at the police station.
If you choose not to see a solicitor at the police station and you are charged with a drink driving related offence then it is usually in your best interests to find an expert in drink drive offences to represent you in court, this should be done as soon as possible after you are charged.
The reason that you might want to use a specialist rather than a general practice lawyer is because they will be able to help and advise you on ways that you are able to help avoid you losing your licence, or minimise the loss of your licence.
Special reasons can be argued by the driver to avoid a ban for exceeding the drink drive limit in some cases where no legal defence is available. A criminal record may be avoided and your legal fees reimbursed in some cases.
Emergencies
Some drivers may feel they had no alternative but to drive whilst they were over the limit. Where this happens you may be able to argue "special reasons" as a way of avoiding a driving ban. The typical cases involve some kind of emergency. If you need expert advice from a proven motoring law specialist, ask Patterson Law drink driving solicitors a free, no obligation question about your offence circumstances and let them guide you towards the best possible outcome.
Points on driving licence
Points on driving licence and what to do
Points on driving licence is a demerit point system is one in which a driver's licensing authority, police force, or other organization issues cumulative demerits, or points to drivers on conviction for road traffic offences  Points may either be added or subtracted, depending on the particular system in use.
A major offence may lead to more than the maximum allowed points being issued. Points are typically applied after offences are committed, and cancelled a defined time, typically a few years, afterwards, or after other conditions are met; if the total exceeds a specified limit the offender may be disqualified from driving for a time, or the driving license may be revoked.
Fines and other penalties may be applied additionally, either for an offence or after a certain number of points have been accumulated.
The new drivers act
points on driving licence for new drivers act essentially puts newly-qualified drivers on a two year period of probation. If you get six or more points on your licence in the two years after you passed your test, you'll automatically lose your licence and become a learner driver all over again. You will have to start from scratch; you'll even need to apply for your provisional licence again.
If you lose your licence and then pass a retest, you will not be subject to a second period of probation.
Totting up points can be quite easy for new drivers if they are not careful and the penalties for new drivers are quite strict. Because you will be required to retake your driving test if you collect 6 points for totting up, the financial cost is also high. One missed payment or failed direct debit to your insurance company can cost you your driving licence in the first two years after passing your test.
There are a few steps you can take if you find yourself in this situation. Don't accept a fixed penalty for a no insurance offence for example, as you will lose your licence and it can't be revoked or returned without a full retest. If you are accused of an offence that will take you towards 6 points, ask for free advice from leading new driver lawyers, Patterson Law and find out if you can defend your accusations?
You can also get driving licence points on your provisional licence
Yes, not even your provisional licence is safe from the dreaded points. Any points you get on your provisional licence will last for three years and will stay on there when you pass your test, putting you more at risk of falling foul of the new drivers act.
If you somehow manage to get six points on your provisional licence, it won't be taken away from you. However, once you've passed your test you'll have to avoid getting any more driving licence points for two years to avoid losing your licence and having to start again.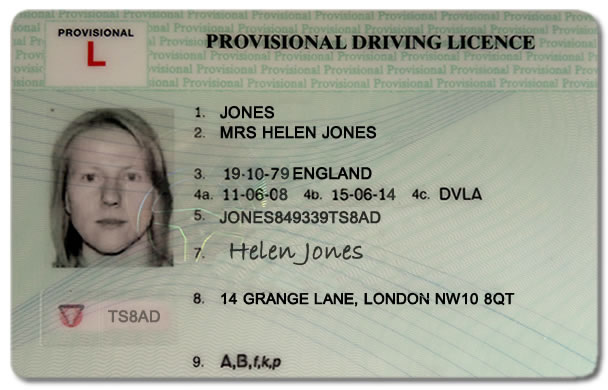 Accident Offences
The following offence codes must stay on a driving licence for four years from the date of offence.
| Code | Offence | Penalty points |
| --- | --- | --- |
| 50 08 028 | Failing to stop-injury accident | 5-10 |
| 50 08 031 | Failing to give particulars-damage only accident | 5-10 |
| 50 08 032 | Failing to stop-injury accident | 5-10 |
| 50 08 035 | Failing to give particulars-injury only accident | 5-10 |
Breathalyzer kits needed for new French law
As of July 1st 2012 the French government has ruled that all motorists in the country have to carry a breathalyzer kit in their vehicle or face a fine, this includes foreign visitors too.
In a bid to reduce the numbers of road deaths caused by drink driving, the French government believe if motorists can check their alcohol levels before setting off 500 lives can be saved as a result.
Many are saying this is simply a way of making more money out of road users, as if fuel prices, tax and insurance costs weren't high enough, all drivers in France now have to spend money on a breathalyzer kit along with the already enforced practice of a high visibility vest or jacket and a warning triangle. If found without a breathalyzer kit in your vehicle you face a fine of $11 (£9) but you are expected to purchase these kits first for a minimum of £3.00 for a disposable kits or £100 for a digital version.
The new law has already been put in place but fines will not be issued until the 1st of November 2012 due the fact that there are simply not enough breathalyzer kits to go around so companies are currently manufacturing them thick and fast. So many believe that is purely a way of making money since the French daily paper, Sud Ouest, reported that the president of the anti drink driving lobby, Daniel Orgeval, also works for the one of the two leading breathalyzer kits manufacturers, Contralco. It seems too much of a coincidence that Contralco released their latest product after being in financial difficulties right before the new law has been put in place.
While this is a good idea and should drum into road users heads that they cannot get away with drink driving, it is coming across that this is simply a money making scheme. What do you think?
Similar stories: http://kpel965.com/dwi-do-the-french-have-it-right/
http://www.inquisitr.com/268461/drivers-in-france-required-to-carry-self-breathalyzer-tests/
UK car sales jumped 7.9%
Figures of car sales show by the SMMT Society of Motor Manufacturers and Traders, that 162.288 new cars were sold in the month of May. This is a 7.9% increase compared to last May.
The big rise is largely due to the percent increase of people selling their cars privately. This has risen by 14.3%. The notable growth in car sales overall is in the demand for more fuel efficient and economic vehicle such as the hybrid and electric cars.
Ford announce the price for their new Focus ST
The new 2012 Ford Focus ST has now had a price tag attached costing £21,995.
The new 247brp hot hatch will cost the above price while its ST Estate model will cost £23,095 to purchase from new. As of June 1st orders are being taken for the purchase of these stunning new Fords with Dealers expected to receive them by September 2012.
Compared to Volkswagen, who have bumped up the price of their VW Golf GTI in the recent year, to £25,330 despite having a 207 bhp engine. It seems that Ford might come out on top with their new model with UK Ford enthusiasts itching to get their hands on the wheel.
Between 2002 and 2010 Ford sold 35,000 of their previous ST models and is expected to do just as well as the vehicle will be available to purchase globally.
So what can be expected from the new Focus ST?
Tuned to produce 247brp with its 2.0 litre ecoboost engine, the ST has lost its 5th cylinder which the previous Volvo- sourced ST engine had meaning emissions and economy will improve by a staggering fifth with 169g/km of CO2 and 39.2mg.
The UK ST model will come equipped with Bluetooth, Keyless start, Recaro seats, DAB radio and 18 inch alloys as standard.
Jaguar wins an award
After owning the key ownership award for 11 years running, Jaguar have stolen Toyota's title becoming the UK's number one car maker.
A Which? Study that is in partnership with JD Power has shown that Jaguar owners are really satisfied with their jaguars.
The study was measured by customers satisfaction with the car and they the service they receive from the dealers.  All customers were asked on their opinions towards the cost of their vehicles, reliability, quality and vehicle appeal brining Jaguar out on top.
Jeremy Hicks, Jaguar Land rover UK's Managing director said that this new title will be "another tool in our armoury" He also told BBC news that "Things like this have a long burn life" and that "it rests in customers minds when it comes to making purchasing decisions"
Green motoring causing £13 billion hole
With people being encouraged to go green when it comes to motoring with more incentives being offered to purchase fuel efficient and greener vehicles, it seems that while this will be helping our planet and keeping carbon emission levels down, it will eventually burn what is expected to be a £13 billion hole in the UK's public finances.
The Institute for Fiscal Studies (IFS) has found that while we carry on purchasing electric or more fuel efficient vehicles that allow us to have tax breaks and spend less on fuel it seems that this will have a large effect on government income.
Commissioned by the RAC Foundation, IFS research suggests that fuel duty which is collected by the exchequer would fall by 1.7 per cent of GDP to 1.1 per cent of GDP 2029, while vehicle excise duty will be down to 0.1 per cent from 0.4 per cent. Meaning a £13 billion loss in revenue.
This may come as a surprise, or maybe not, that while the government put the price down on running greener cars but put the price of fuel at the pumps up, they are expected to face a drought in motoring income tax if they don't start clawing back their money from somewhere.
It seems to avoid falling into this £13 billion hole, fuel prices are going to have to be pushed up once again if tax prices on some cars are to stay down.
Electric vans are the future
Nissan team up with British Gas to create and test new electric van.
Nissan chose British Gas the large energy supply company to test their new e-nv200 electric van over these previous few weeks. The result of the trial was a success with British Gas's general manager, Colin Marriott promising to switch 10 percent of the companies 14,000 vans to electric ones in the next three years.
Selected members of staff from British gas were chosen to drive the new e-nv200 to and from work, load the vehicle to its full weight capacity and travel the country performing their normal day to day work duties until they had clocked 1,200 miles in their electric vans.
With the price of fuel just continuing to rise, Marriott says that his drivers reported to be happy to charge their vans rather than spending money on diesel. British Gas says they will be buying OEM vehicles not conversions and hope that other large companies with fleets will follow in their footsteps.